I'm not sure how many years we've been with the Clio Animal hospital, but Dr. Kendra Reynolds has been more than our veterinarian, she's part of our family! Her love & dedication to her patients is truly amazing. There are so many times this was proven, but a few times that will always stand out to me were with our cat Charlie, & our little dog, Tessa Rae.
Charlie had developed a skin condition that had to be treated with a steroid shot about every 6- 8 months, & as he grew older, the ride to the office really began to stress him out. Quick to notice this, Dr. Kendra decided it would be better for him if she came to our house to give him his shot! So, for the last few years he was with us, that's exactly what she did! We would call the office to let them know he needed a shot, & she would come out on her lunch to administer it. It was so endearing to us that she wanted to make him at ease & comfortable in his twilight years!
We adopted our little Tessa at 8 weeks in 2008, & Dr. Kendra has been with her from the start, through some major health issues. One weekend in particular stands out. Tessa wasn't acting just right & as she lay on the bed, I noticed what looked like a large bruise on her inner thigh. Since it was a Sunday (of course!) when the office was closed, I called my friend who has owned a kennel for over 30 years. When I described what I saw, she thought it sounded like Tessa may be bleeding internally, & to get her to an emergency clinic. The Dr. at the Flint clinic confirmed that it was an internal bleed from unknown causes. She recommended treatments requiring several thousand dollars, with no guarantee of any good outcome. When questioned, she said that basically Tessa would be prone to this & that she would have to live a severely restricted life. The cost wasn't the issue, but Tessa's quality of life was, so we signed her out, to take our little girl home to die. Monday, we made an appointment to see Dr. Kendra, who had received the paperwork from the clinic. While she did agree with their diagnosis, she didn't want to put Tessa through any drastic measures like they wanted. She simply said: " Give me just a few days with this medicine, & let's just see what happens!" Within 3 days our girl was back to her normal, playful, squirrel chasing self, & stayed that was for several years to follow!
Dr. Kendra took care of the 'Terrible T' through broken toes, cracked teeth, liver disease & the horrific 'Tick Attack' & we always knew she was in the very best of hands. After 15 years her poor old, tired heart finally gave up on her this Jan. & Dr. Kendra & 'Auntie' Martha were right there to help us through it, we will always be so grateful for that. We know there wasn't anything we couldn't talk to Kendra about, she always took time to answer any questions we had, or listen to our concerns, & her compassion was so real! Thank you, Dr. Reynolds & staff, for being the absolute best! You will always have our heartfelt love & deep appreciation!

– Sincerely, Peg & Kevin Lawrence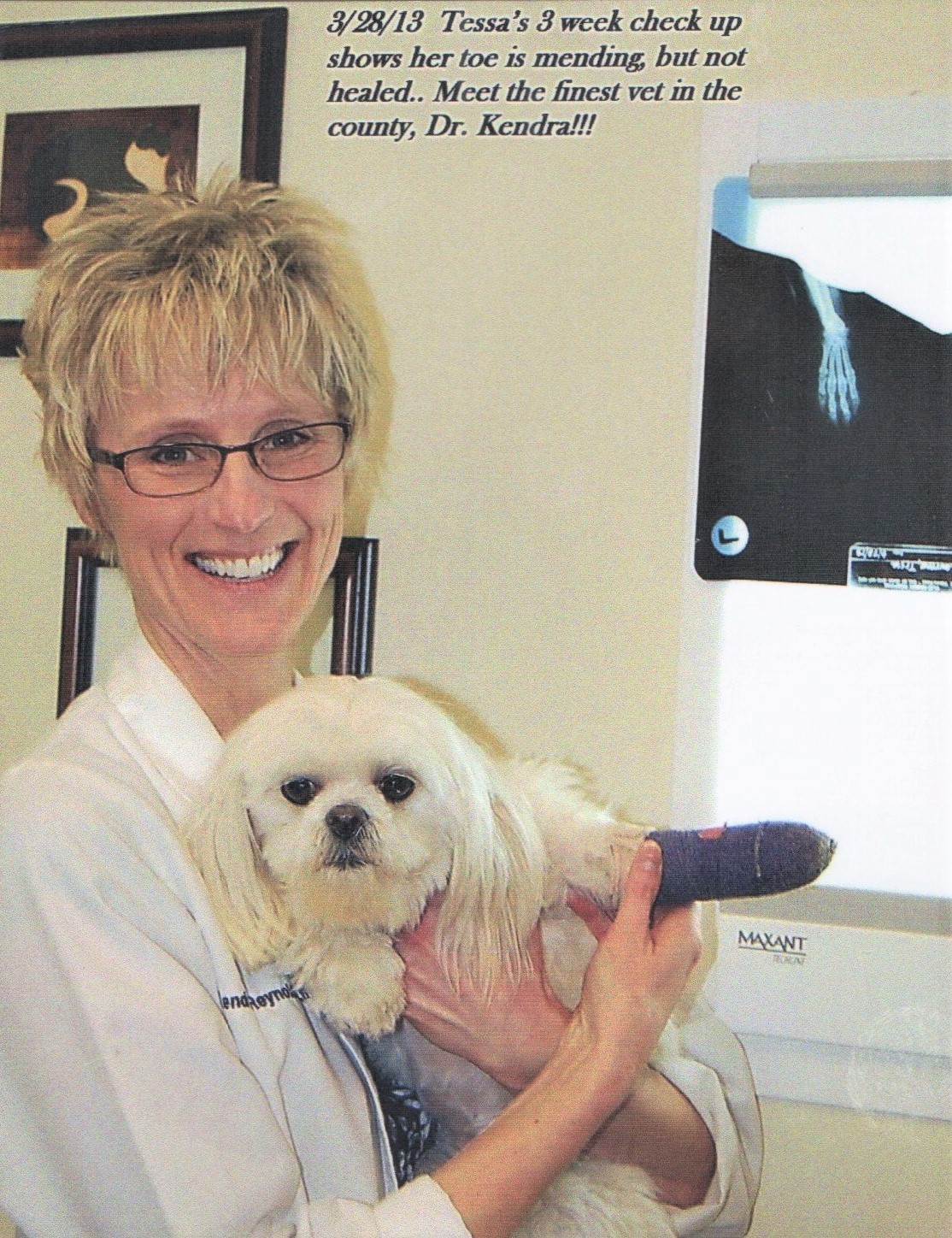 This is a wonderful place. Please do not change!! – Kayla Klingensmith
The entire staff is AWESOME! I have never received such great treatment for us & Peanut. – Linda Bott
Thanks for being so kind and compassionate – E. Ehrmantraut
I love coming here! I feel very comfortable taking Jerry in. He gets worked up and is particular about who he is around and he likes all who work here! – Stephanie Dice
"This is such a great place with very friendly staff!"
"Everyone is always very kind & helpful! Dr. Reynolds always explains all concerns in detail and shows that she cares for your pet's well being. Thank you all for being so kind and helpful!!" – Melissa Gatica
"I have been coming here since 2007. The staff is superb! Everyone is beyond friendly and knowledgeable, and Dr. Reynolds is a doll! She is so intelligent, perceptive, professional, compassionate….I could go on and on! You can tell all of the staff love their jobs, and the animals. I have never had a bad experience here, and will never take my babies anywhere else!"
"The customer service is great here. Dr. Reynolds, you are great. I'm very thankful and so appreciative that I have you as my family veterinarian. Everything is great here [at Clio Animal Hospital]; I've never had a problem. I've been to other veterinarian offices, and I just felt relief after I met Dr. Reynolds and Martha for the first time. I knew I'd found my family veterinarian. Megan and Ashley have been so wonderful as well. Communication is also superior here. I never feel left in the dark. Client and patient care is number one with Clio Animal Hospital."